Gutter Installation & Replacement in Raleigh, Durham & Chapel Hill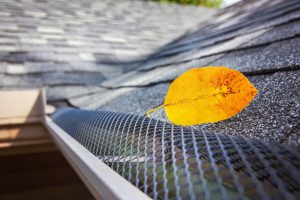 Gutters and downspouts are two of the most important structural components of your home or business. Not only do they keep rainwater flowing away from your building, but they are also instrumental in protecting your roof, walls, landscaping, and foundation from water damage. That's why replacing damaged gutters is so crucial.
Whether your current gutter system is broken beyond repair or you just want to upgrade to a seamless gutter system, call Sappelt Roofing and Repair. Our gutter replacement and installation service is backed by 40+ years of industry experience, and we do all of the work ourselves, in-house. When our gutter contractors are on the job, you can be confident you're getting nothing short of effective solutions and long-lasting results.
To find out more about installing rain gutters for your home or business, reach out to Sappelt Roofing and Repair today! We're proud to serve customers in Raleigh, Durham, Chapel Hill, and surrounding parts of the Triangle.
When Do You Need Rain Gutter Replacement?
More often than not, property owners seek gutter replacement because their current gutters are too damaged for repair. Circumstances vary, but the factors that lead customers to replace gutter systems usually involve at least one of the following:
Natural wear and tear. Gutters have an average lifespan of about 20 years with normal wear and tear. However, if they're not properly maintained and kept in healthy condition, this lifespan can be much lower.
Heavy debris accumulation.

 Debris like twigs, leaves, and dirt often gets caught in gutters. And when gutters aren't cleaned out regularly, 

this debris accumulation can lead to gutter collapse, gutter clogs, water damage, and even fire hazards.

Physical damage from ladders. Many homeowners inadvertently cause their gutters to bend or break by resting their ladders directly on their gutters. This aggressive contact between gutter and ladder can cause serious damage and require full gutter replacement.
Split seams. 

Gutters can be weakened at the seams by uneven weight distribution and rust buildup. This often happens when gutters aren't installed properly or are made of a low-quality material. In these cases, you'll need durable replacement gutters that can give you a much stronger performance going forward.

Storms. Heavy precipitation can drag a lot of debris into your gutters. At the same time, powerful gusts of wind can knock your gutters loose and cause irreparable damage to them. After a particularly destructive storm, you'll likely need to replace your gutters.
Do any of these describe your current situation? If so, call Sappelt Roofing and Repair for replacement gutter installation ASAP!
Custom Fabrication for Rain Gutter Installation
We specialize in seamless gutter installation for commercial and residential properties of all sizes. We love installing seamless rain gutters because they provide superior protection and performance compared to traditional gutters.
For your convenience, Sappelt Roofing and Repair has the materials and equipment to custom-fabricate your gutters right on site. Not only does this equate to a super-fast turnaround for installing rain gutters, but it also allows us to precisely design your gutter system so it fits the exact size and configuration of your building. This minimizes leaks and leads to a much longer lifespan for your system.
Furthermore, our wide selection of materials means we're capable of producing more than 30 different colors for you to choose from. With this many gutter installation options available, you'll be able to find the perfect match for your desired appearance.
Xtreme Gutter Guards
Sick of dealing with dirty gutters? Sappelt Roofing and Repair is the Triangle's top installer for Xtreme Gutter Guards! These state-of-the-art gutter covers are made of stainless steel and aluminum, and they block leaves, twigs, and other debris from falling into your gutters. As a result, they save you the time, hassle, and expense of cleaning out your gutters on your own. No wonder they've become so popular with homeowners!
Our experienced gutter contractors are qualified to install your new Xtreme Gutter Guard system with total precision and efficiency. With us at the helm, you'll get flawless workmanship and enduring performance from your new gutter guards.
Call or email us today to schedule an appointment!