Skylight Installation, Replacement & Repair in Raleigh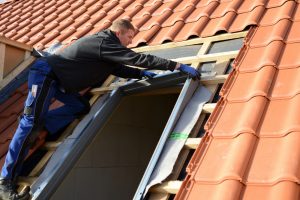 An experienced roofer is the perfect choice for skylight installation.
Why? Well, considering that your skylight cuts a pretty huge hole through your roof, proper installation requires an in-depth knowledge of both structures. When you install a skylight without accounting for roof pitch, waterproof flashing, rafter placement, insulation, and other factors, serious structural problems usually result.
In other words, the stakes are too high to trust just anyone with your kitchen or bathroom skylight. That's why Sappelt Roofing and Repair should be your first phone call!
We've been in the roofing business for 40+ years, and that makes us one of the most qualified skylight installers you'll find in Raleigh. We know exactly what it takes to correctly install your roof skylight with:
Seamless flashing

Secure fit

Waterproof seal

Additional drywall and insulation

Overall structural safety
We're proud to do all of our work in-house, directly supervised by our company's owner. Plus, we never take shortcuts and we use only the highest-quality materials. This means you'll be able to enjoy your home skylight for a lifetime! 
Whether you're interested in a kitchen skylight, bathroom skylight, or a cool roof-hatch skylight, call Sappelt Roofing and Repair. You can trust our skylight contractors to outfit your home or business with a strong, seamless skylight window.
Skylight Window Repair
Unfortunately, if your skylight is old or was poorly installed by another contractor, then you're probably facing some structural issues with it now. These usually result from a faulty seal around the skylight's perimeter or incorrect framing. Skylight problems may include:
Peeling or cracking paint around the skylight
Water stains on walls around the skylight
Interior frame damage and hazards
Structural damage
Water-logged shingles
Mold and mildew
Energy loss and inflated utility bills
The same as with installation, skylight repair is best done by Sappelt Roofing and Repair because we understand the intricacies of roofing and skylights. We'll use our knowledge and experience to fix the flashings, seals, framing, and any other component that could be contributing to your water leaks and drafts.
When you want to prevent further damage to your roof and ceiling and increase your skylight's energy efficiency, we're the name to know. We've been in business since 1982, and we can't wait to help you with your skylight installation, replacement, or repair. Call now for service in Raleigh and surrounding parts of the Triangle!