Raleigh, Durham & Chapel Hill Roof Leak Specialists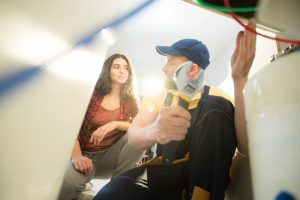 Water damage can often appear inside your home or business without a clear source of the leak, which can often be hidden or difficult to trace back to their origin. At Sappelt Roofing, we have the equipment and experience needed to pinpoint leaks so that we can help you can stop them and prevent any further costly water damage to your home. We take a non-invasive approach to finding mystery leaks, making sure to carefully locate the cause and then work with you to develop a plan to put a stop to it.
Trying to find the cause of a leak on your own can be extremely frustrating and tiresome. Rather than trying to locate it by yourself, let our team of dedicated specialists handle things while you go on about your daily life. We'll work diligently and quickly to stop the water flow as soon as possible and begin any roof leak repairs that may be necessary.